Buy Bachelor Degree, Master Degree,
Diplomas or Life Experience Degree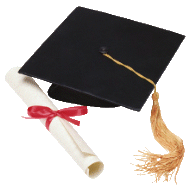 Do you want a Diploma or Life Experience Degree? Do you want to give away a Master Degree? Or put a Bachelor Degree under the Christmas tree? Here you can buy associates degrees, bachelor degrees, master degrees and life experience degree.

Choose from a lot of designs and different disciplines, many of which were invented and brought to market by us.

You can pay with your Bank Account (Europe, EU) or International with Paypal.





In just a few hours you hold the documents in your hands. After the payment we send your Bachelor Degree, Master Degree or Life Experience Degree as pdf with E-mail.
Our 100% legal Religious Doctor Degree (Doctoral Degree) and Professorships you find on our → Doctor Degree Page.
Bachelor Degree or Master Degree
Price: $15 US Dollar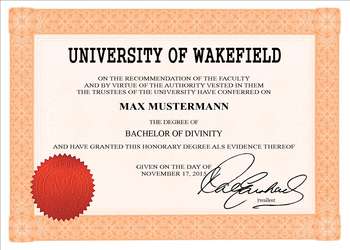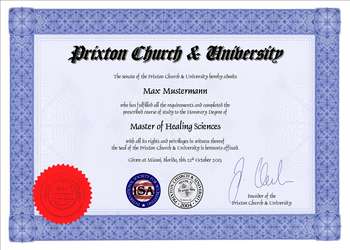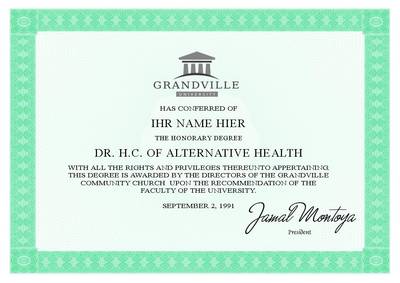 These honorary bachelor or master degrees are not academic degrees, but church honorary degrees in religious disciplines. Any US registered and recognized church has the right to confer honorary degrees on these Honorary Degrees (Latin: honoris causa ad gradum, h.c.). Order your original honorary bachelor or master degree from the market leader. Choose from a variety of subject areas.

World first and only with us: Master of Reiki, Master of Veganism, Master of Satanism or Satanology, Master of Demonology and many more. Of course also available as Bachelor degree or Life Experience Degree.

Here you can quickly and uncomfortably obtain your 100% legal Bachelor Degree or Master Degree.

Raise your self-esteem with this bachelor or master or hang it on the wall as a decoration. Also ideally suited as a special gift idea for special people.

Choose the different exhibitors and from a variety of disciplines. We offer Bachelor and Master titles from different US churches.

We take over the complete donation process with the US churches and you hold your new honorary degree in few hours after receipt of payment in your hands.

New in the program now also Bachelor of Arts, e.g. in Biblical Studies or Master of Arts, e.g. in Christian Studies.

Now easily buy your Bachelor or Master Degree.

Specialization Reiki only with us!

New: Diploma of Biblical Studies as Bachelor Degree or Master Degree.

We can offer religious Degrees from Prixton Church and University, Townsend University (Townsend Free Church) and Wakefield University (Wakefield Church).



Bachelor Degree, Master Degree, Doctor Degree,
Diploma and Life Experience Degree
$15 US Dollar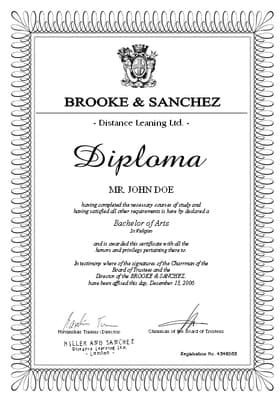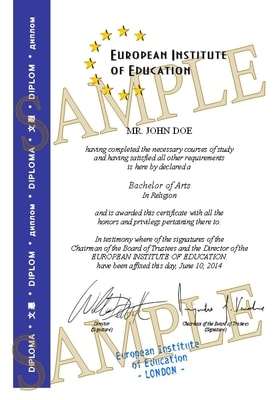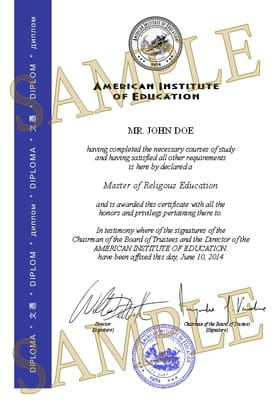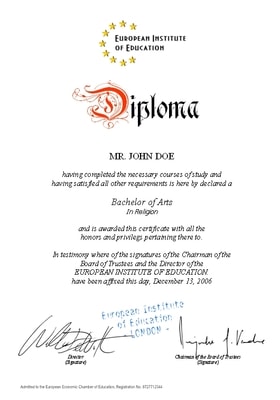 Order your Diploma as Life Experience Degree: Bachelor Degree, Master Degree or Doctor Degree. All Diplomas (pdf) are fakes.

Now with or without professional Background: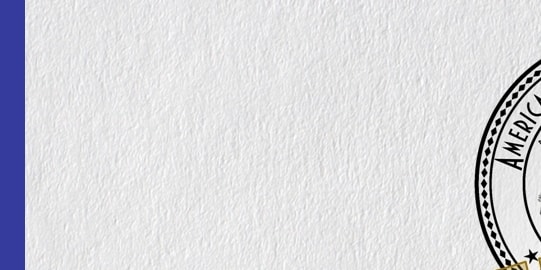 Associate Degree, Bachelor Degree
or Master Degree as Life Experience Degree
Price: 15 US Dollar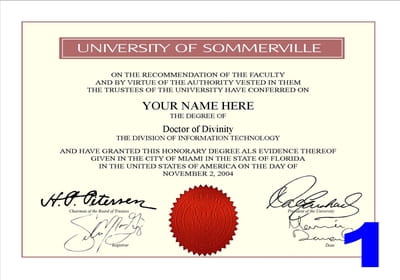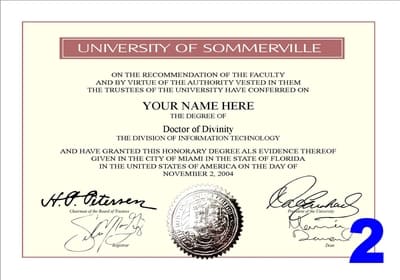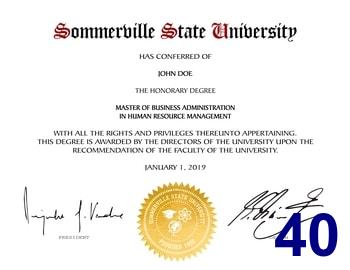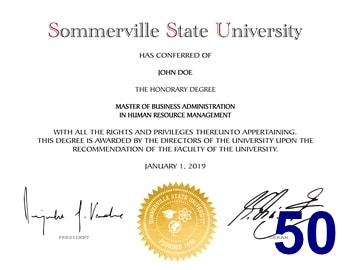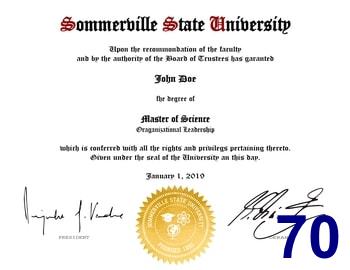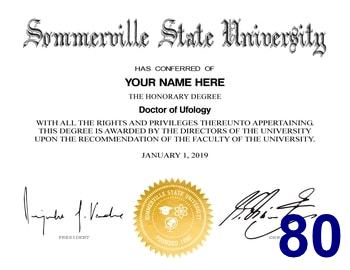 We offer Diplomas from Associate degrees, Bachelor degrees, Master degrees and Doctoral degrees. All these Life Experience Degrees are fakes. Order your own "Master of Biology" Diploma or "Doctor of Philosophy" and impress friends and acquaintances. Or give away the diplomas as a gift idea.


✘ The Life Exprience Degrees are only for decoration and only confirm the self-study in the chosen subject areas. Of course, the Diplomas also lift the self-esteem and make yourself magnificently on the wall. The Bachelor Degree or Master Degree are definitely a good eye-chatcher for your desk.
All subjects are possible: Biology, Medicine, Physics and many more. If you do not find your desired subject, just write us.

In the date field you can enter a date according to your wishes.

✘ You wish a other Exhibitor? No problem. Write the Notice in the field "Wish Exhibitor" and we change the Name of Exhibitor.

Now with or without professional Background: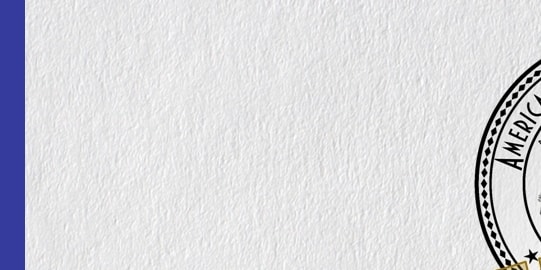 Associate Degree, Bachelor Degree,
Master Degree, Life Experience Degree, Diploma?
An Associate Degree is an undergraduate academic degree awarded by colleges and universities upon completion of a course of study intended to usually last two years or more. It is considered to be a higher level of education than a high school diploma. The first associate degrees were awarded in the UK (where they are[when?] no longer awarded) in 1873 before spreading to the US in 1898. They have since been introduced in a small number of other countries.

A Bachelor's Degree (from Middle Latin baccalaureus) or baccalaureate (from Modern Latin baccalaureatus) is an undergraduate academic degree awarded by colleges and universities upon completion of a course of study lasting three to seven years (depending on institution and academic discipline). In some institutions and educational systems, some bachelor's degrees can only be taken as graduate or postgraduate degrees after a first degree has been completed. In countries with qualifications frameworks, bachelor's degrees are normally one of the major levels in the framework (sometimes two levels where non-honours and honours bachelor's degrees are considered separately), although some qualifications titled bachelor's degrees may be at other levels (e.g. MBBS) and some qualifications with non-bachelor's titles may be classified as bachelor's degrees (e.g. the Scottish MA and Canadian MD).

An honours degree generally requires a higher academic standard than a pass degree, and in some systems an additional year of study beyond the non-honours bachelor's. Some countries, such as Australia, New Zealand and Canada, have a postgraduate "bachelor with honours" degree. This may be taken as a consecutive academic degree, continuing on from the completion of a bachelor's degree program in the same field, or as part of an integrated honours program. These programs typically require completion of a full-year long research thesis project.

A Master's degree (from Latin magister) is an academic degree awarded by universities or colleges upon completion of a course of study demonstrating mastery or a high-order overview of a specific field of study or area of professional practice. A master's degree normally requires previous study at the bachelor's level, either as a separate degree or as part of an integrated course. Within the area studied, master's graduates are expected to possess advanced knowledge of a specialized body of theoretical and applied topics; high order skills in analysis, critical evaluation, or professional application; and the ability to solve complex problems and think rigorously and independently.

A Doctor Degree is a academic Zertifikate. Doctor is an academic title that originates from the Latin word of the same spelling and meaning. It has been used as an academic title in Europe since the 13th century, when the first Doctorates were awarded at the University of Bologna and the University of Paris. Having become established in European universities, this usage spread around the world. Contracted "Dr" or "Dr.", it is used as a designation for a person who has obtained a Doctorate (e.g. PhD). In many parts of the world it is also used by medical practitioners, regardless of whether or not they hold a doctoral-level degree.

A Diploma is a certificate or deed issued by an educational institution, such as college or university, that testifies that the recipient has successfully completed a particular course of study. The word diploma also refers to an academic award which is given after the completion of study in different courses such as diploma in higher education, diploma in graduation or diploma in post graduation etc.

A Diploma is also called a Degree. The Diploma or Degree (as a document certifying a qualification) may also be called a testamur, Latin for "we testify" or "certify" (testari). Alternatively, this document can simply be referred to as a degree certificate or graduation certificate, or as a parchment.
Honorary Degrees
An honorary degree, in Latin a degree honoris causa (h.c. "for the sake of the honor") or ad honorem ("to the honor"), is an religious or academic degree for which a church or university (or other degree-awarding institution) has waived the usual requirements, such as matriculation, residence, a dissertation and the passing of comprehensive examinations. The degree is typically a doctorate or, less commonly, a master's degree, and may be awarded to someone who has no prior connection with the academic institution or no previous postsecondary education.

The term "honoris causa" (hc) is derived from Latin and means "honorary" (originally "in honor of honor" or "because of honor"). If a person has received at least two appraisals, the abbreviation h. c. mult. usual, which stands for honoris causa multiplex, ie the multiple honorary doctorates.

Honorary doctorates were formerly awarded primarily for their outstanding scientific achievements. Today, doctoral degrees are often awarded for general or direct merit to the college or faculty, although this is not usually a formal requirement. A typical case is the award of an outstanding scientist, who has made a special contribution to the faculty as a founding dean. Frequently, the awarding of an honorary doctorate (= doctorate Dr.h.c.) also takes place for political, financial or other reasons, in which the excellence of the academic achievements of the honoree is not always recognizable.