Buy Nobility Titles
Nobility Titles
The title of nobility gave the rank of a nobleman in the social hierarchy. Many nobility titles were originally function names. To distinguish from the title of nobility is on the one hand the title of predicate (the title), on the other hand the nobility predicate.

Hierarchy of titles of nobility and english Titles: Emperor, Empress, King, Queen, Archduke, Archduchess, Grand Duke, Grand Duchess, Duke, Duchess, Grand Duke, Grand Duchess, Elector, Electoral Prince, Prince, Princess, Sovereign Baron, Souvereign Baroness, Marquess, Margrave, Marchioness, Margravine, Earl, Count, Countess, Palsgrave, Imterial Count, Landgrave, Landgravine, Raugrave, Wildgrave, Baron, Baroness, Knight, Nobleman, Sir, Dame.

With each title of nobility you get the right to use one of the following three coats of arms, whether on the stationery, business cards or homepage: For their proper appearance as a representative of the nobility.

Choose from three different Coat of Arms (Family Crests)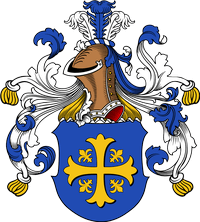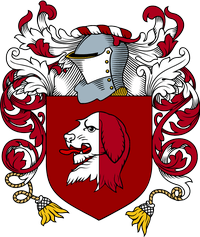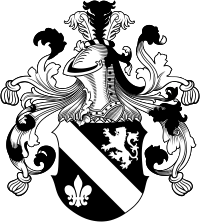 You can pay with your Bank Account (Europa, EU) or International with Paypal.





After the payment we send your Nobility Titles as pdf with E-mail.

All pdf in US Letter 8.5 x 11 Inch (216 x 279 mm)
Buy Nobility Titles
Only $15 US Dollar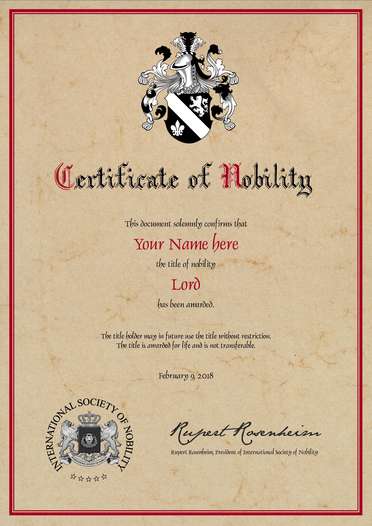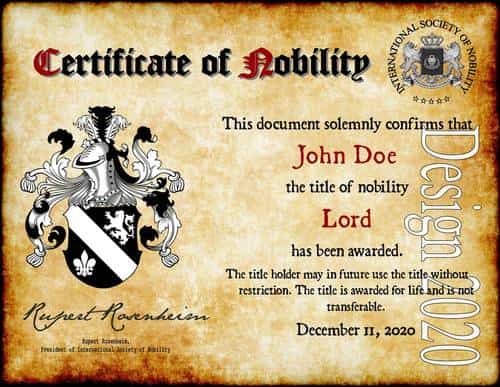 A very special gift: Buy nobility titles from Lord, Baron and many more.



Nobility Titles
All Nobility Titles are licensed by the International Society of Nobility Titles in New York (USA) and Paris (France).
The titles of nobility were the most common in Europe. Many royal families have made it into modern times, for example the british queen, spain and many more.
European title of nobility, equivalent to a British earl, ranking in modern times after a marquess or, in countries without marquesses, a duke. The Roman comes was originally a household companion of the emperor, while under the Franks he was a local commander and judge. The counts were later slowly incorporated into the feudal structure, some becoming subordinate to dukes, although a few counties (or countships), such as those of Flanders, Toulouse, and Barcelona, were as great as duchies. The reassertion of royal authority over the feudatories, which took place at different times in the different kingdoms and led to the formation of centralized states of the modern type, meant that most counts lost their political authority, though they retained their privileges as members of the nobility.
Nobility Title Lord and Laird
Only $15 US Dollar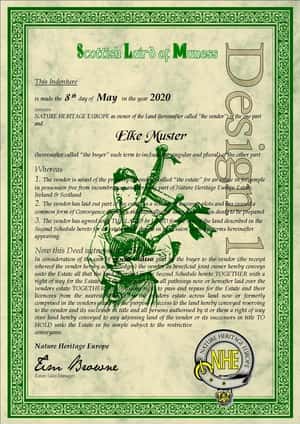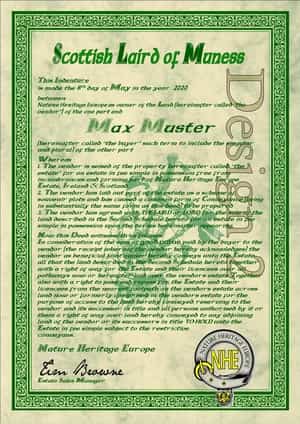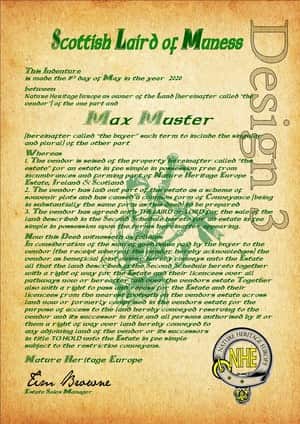 An extraordinary gift not everyone has: a true Irish Lord or Scottish Laird title that can be worn legally, e.g. when
John Doe, Laird / Lord of xyz oder
Laird / Lord Doe
Lord John Doe of xzy
You are also allowed to use our crest and receive a download.
You may also use the title of nobility plus coats of arms on letterhead or business cards.
What does "Laird" or "Lord" mean?
Laird translated translated as country nobleman or squire. The title Laird is associated with the "good" or country in certain parts of Scotland. The title can not be separated from the country. This means that anyone who owns (or owns) a piece of land in the districts may automatically carry the title "Laird", regardless of the size of the country, theoretically also from a "squarefoot" large property. The title "Laird" is recognized worldwide.
The Irish Landlord title is similar - The Irish term "Tirana" means at the same time "landowner" and "Lord".
Give a noble title from Ireland or Scotland
Is the title of nobility inheritable?
Yes, co-ownership and title are inheritable. This keeps everything in family ownership.
What is the female form of the Laird / Lord?
The female form of Laird / Lord is Lady, and so it is also registered on the certificate.
Will I be registered as owner in the land register?
No, because that would go beyond the scope and would hardly be affordable. You will be with the issued certificate co-owner of our lands. A notarial certification is not necessary.
Select one of the following Nobility titles "Lord" (Ireland) or "Laird" (Scotland) titles or the feminine form "Lady":
(Scottish) Laird of Camster
(Scottish) Laird of Clayton
(Scottish) Laird of Cranachan
(Scottish) Laird of Gairloch
(Scottish) Laird of Glencairn
(Scottish) Laird of John O'Groats
(Scottish) Laird of Jura
(Scottish) Laird of Loch Borralan
(Scottish) Laird of Manor
(Scottish) Laird of Muness

(Irish) Lord of Cork
(Irish) Lord of Kerry
(Irish) Lord of Roscommon
(Irish) Lord of Strandhill