Wollten Sie schon immer mit Herr Doktor oder Frau Doktor angesprochen werden? Probieren Sie es aus, wie Ihr Name mit Doktortitel klingen würde. Der Ehrendoktortitel klingt sehr gut, werden Sie jetzt sagen. Doch wie kann ich so einen Doktortitel bekommen? Dies ist jetzt möglich. Hier können Sie ohne viel Aufwand und Kosten völlig legal verschiedene Doktortitel erlangen. In nur wenigen Tagen halten Sie die Urkunden in den Händen.

Seit 2004 vermitteln wir kirchliche Doktortitel aus dem USA. Wir haben die Idee der kirchlichen Dokortitel nach Deutschland gebracht und wurden seither oft kopiert. Bestellen Sie jetzt ein Original Ehrendoktortitel beim Marktführer und "Erfinder".

Bei den vermittelten Doktortitel bzw. Ehrendoktortiteln handelt es sich nicht um akademische Grade, sondern um kirchliche Ehrentitel in verschiedenen Fachrichtungen. Alle Ehrendoktortitel werden von US Kirchen bzw. Universitäten verliehen.

Darf es auch etwas mehr sein? Wählen Sie aus einer Vielzahl von verschiedenen Fachrichtungen, von denen viele durch uns erfunden und auf den Markt gebracht wurden. Wählen Sie nicht nur zwischen einem Ehrendoktortitel, sondern auch gleich einem Professortitel aus. Oder Sie verschenken einen Ehrendoktortitel als Geschenkidee.


Doktortitel



Preis: 30 Euro



Eine ganz besonderes Geschenk: Bei diesem Ehrendoktortitel handelt es sich nicht um akademische Grade, sondern um kirchliche Ehrendoktorwürden in religiösen Fachgebieten. Jede eingetragene und anerkannte Kirche in den U.S.A. hat die Berechtigung, diese "Honorary Degrees" (Latin: honoris causa ad gradum, h.c.), Ehrendoktortitel zu verleihen. Bestellen Sie jetzt ihren Original Ehrendoktortitel beim Marktführer. Wählen Sie aus einer Vielzahl von Fachgebieten aus.

Jetzt Neu! Doctor of Reiki — Nur bei uns!

Weltneuheit: Doctor of Veganism — Nur bei uns!





Ab der zweiten Urkunde nur noch je 15 Euro
Einen zweiten Doktortitel als Geschenk für die Freundin, den Freund, die Gattin, den Gatten oder zum verschenken


Doktortitel (PhD, Doctor of Philosophy)



Preis: 30 Euro



Ehrendoktortitel - Life Experience Degrees (Ph.D's)
Ph.D. Doktortitel = Doctor of Philosophy in ...

Sehr beliebt ist der Ehrendoktortitel "Doktor der Philosophie (Ph.D.)" — Verschenken Sie einmal einen echten Ehrendoktortitel: Auch diese Ehrendoktortitel sind keine akademische Grade, sondern kirchlich gecharterte Ehrendoktortitel in religiösen Fachgebieten. Jede eingetragene und anerkannte Kirche in den U.S.A. hat die Berechtigung, diese "Honorary Degrees" (Latin: honoris causa ad gradum, h.c.), Ehrendoktortitel oder Professortitel zu verleihen.





Ab dem zweiten Doktortitel nur noch je 15 Euro
Einen zweiten Doktortitel als Geschenk für die Freundin, den Freund, die Gattin, den Gatten oder zum verschenken


Professortitel



Preis: 35 Euro



Professortitel (Amerikanische Ehren- Professorentitel)

Eine ganz besonderes Geschenk: Bei diesem (Ehren-) Professortitel handelt es sich nicht um akademische Grade, sondern um kirchliche, gecharterte Professortitel in religiösen Fachgebieten.

Professortitel als Geschenk: z.B. Professor of Metaphysics (Professortitel der Metaphysik) und viele weitere Titel möglich.





Ab dem zweiten Professortitel nur noch je 15 Euro
Einen zweiten Professortitel als Geschenk für die Freundin, den Freund, die Gattin, den Gatten oder zum verschenken


Doktortitel anderer Aussteller



Preis: 30 Euro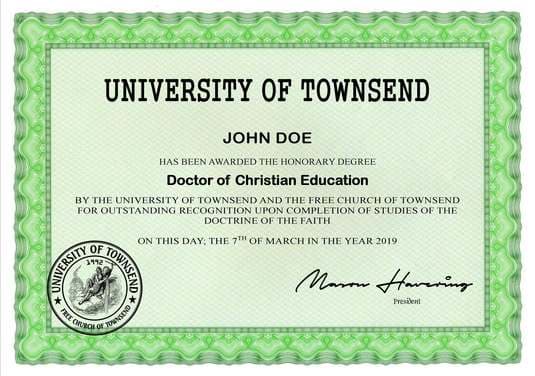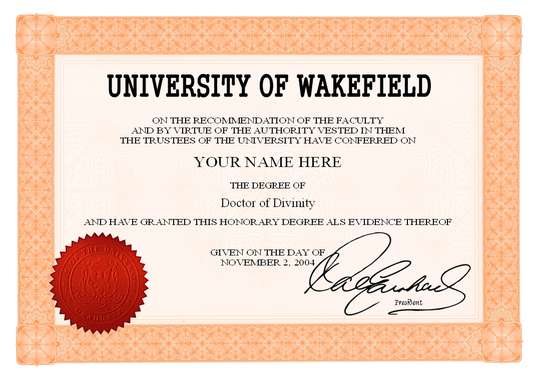 Wir haben mit weiteren US Kirchen verhandelt und können Ihnen so weitere Titel vermitteln. Wir haben keine Kosten und Mühen gescheut. Erstmalig finden Sie bei uns einen Anbieter, der Titel mehrere Kirchen anbieten kann. Wie bei allen Ehrendoktorwürden übernehmen die komplette Spendenabwicklung. In der Regel halten Sie ihren neuen Titel schon in zwei bis drei Tagen nach Zahlungseingang in den Händen.



Doktortitel per Email



Preis: 15 Euro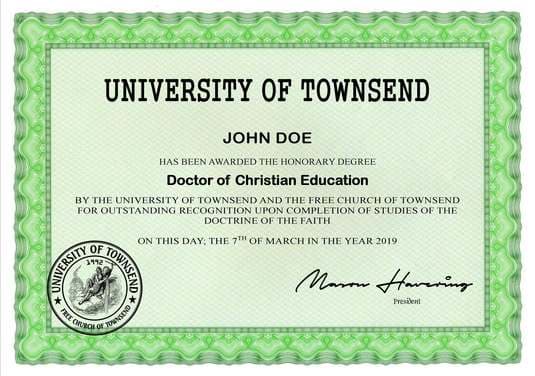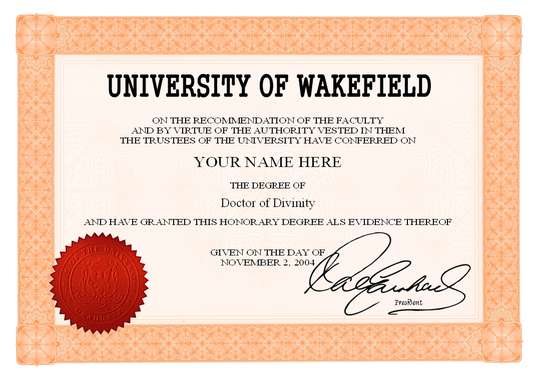 Hier können Sie ihren Doktortitel oder Professortitel einfach per email als PDF Datei erhalten. Die Lieferung erfolgt direkt nach Zahlungseingang per Email als PDF Datei.
Professortitel Professor Emeritus (Prof.em.)



Preis: 79 Euro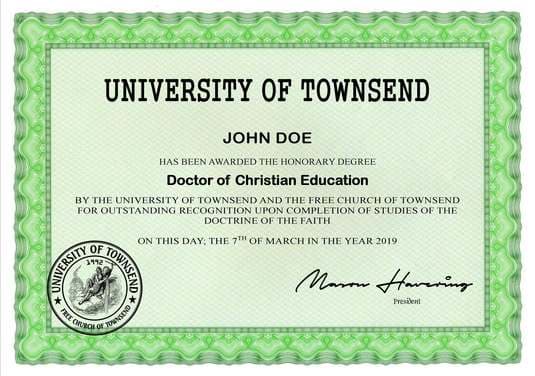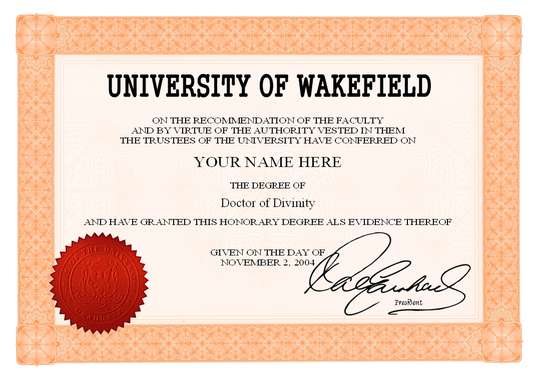 Jetzt neu und nur bei uns: Der Professortitel Professor Emeritus (Prof.em.)

Die Emeritierung ist eine Form der altersbedingten Befreiung von der Pflicht zur Wahrnehmung der Alltagsgeschäfte. Ein emeritierter Hochschulprofessor (Emeritus, Abkürzung:em.) bzw. eine emeritierte Hochschulprofessorin (Emerita) befindet sich in einem Teil-Ruhestand und hat sich nach der Emeritierung das Recht erworben, sich von bestimmten Alltagspflichten einer Professur zurückzuziehen.
Hintergrundwissen zum Ehrendoktortitel



Leider müssen wir davon abraten, die Doktortitel oder Professortitel in Deutschland zu tragen, auch wenn von anderen Anbietern falsch behauptet wird, man könne die Ehrendoktortitel in Deutschland tragen. Anders sieht es z.B. aus, wenn Sie statt des "Dr.h.c." nur "Ehrendoktor der ..." verwenden. Fragen Sie dazu bitte vorher ihren Anwalt.

Natürlich können Sie mit Herr Doktor angesprochen werden, dafür können Sie nicht belangt werden.

Sie dürfen den Ehrendoktortitel nur nicht selbst verwenden.



Grundsätze für die Reglung der Führung ausländischer Hochschulgrade
Im Sinne einer gesetzlichen Allgemeingenehmigung durch einheitliche gesetzliche Bestimmungen
(Beschluß der Kultusministerkonferenz vom 14.04.2000)

1. Ein ausländischer Hochschulgrad, der aufgrund eines nach dem Recht des Herkunftslandes anerkannten Hochschulabschlusses nach einem ordnungsgemäß durch Prüfung abgeschlossenen Studium verliehen worden ist, kann in der Form, in der er verliehen wurde unter Angabe der verleihenden Hochschule geführt werden. Dabei kann die verliehene Form transliteriert und die im Herkunftsland zugelassene oder nachweislich allgemein übliche Abkürzung geführt und eine wörtliche Übersetzung im Klammern hinzugefügt werden. Eine Umwandlung in einen entsprechenden deutschen Grad findet mit Ausnahme zugunsten der nach dem Bundesvertriebenengesetz Berechtigten nicht statt. Entsprechendes gilt für staatliche und kirchliche Grade.

2. Ein ausländischer Ehrengrad der nach einer nach dem Recht des Herkunftslandes zur Verleihung berechtigten Hochschule oder anderer Stelle verliehen wurde, kann nach Maßgabe der für die Verleihung geltenden Rechtsvorschriften in der verliehenen Form unter Angabe der verleihenden Stelle geführt werden. Ausgeschlossen von der Führung sind Ehrengrade, wenn die ausländische Institution kein Recht zur Vergabe des entsprechenden Grades im Sinne der Ziffer 1 besitzt.

3. Die Reglungen unter Ziffer 1 und Ziffer 2 geltend entsprechend für Hochschultitel und Hochschultätigkeitsbezeichnungen.

4. Soweit Vereinbarungen und Abkommen der Bundesrepublik Deutschland mit anderen Staaten über Gleichwertigkeiten im Hochschulbereich und Vereinbarungen der Länder in der Bundesrepublik Deutschland die Inhaber ausländischer Grade abweichend von Ziffer 1 bis 3 begünstigen, gehen diese Reglungen nach Maßgabe landesrechtlicher Umsetzung vor.

5. Eine von den Ziffern 1 bis 3 abweichende Grad- und Titelführung ist untersagt. Durch Titelkauf erworbene Grade dürfen nicht geführt werden (Anmerkung: Die von uns vermittelten Doktortitel werden gegen eine Spende verliehen und nicht verkauft). Wer einen Grad führt, hat auf Verlangen einer Ordnungsbehörde die Berechtigung hierzu urkundlich nachzuweisen.

Weitere Informationen finden Sie im jeweiligen Hochschulgesetz (HochSchG) Ihres Bundeslandes (Ausländische Grade).


Ein Ehrendoktortitel (Dr. h. c., Dr. E. h., in der Theologie auch D.) war früher eine ehrenhalber verliehene Auszeichnung, meist von einer Universitat oder Fakultät, die für besondere akademische oder wissenschaftliche Verdienste verliehen wird. Im Ausland ist der Doktortitel bei weitem nicht so beliebt wie in Deutschland. Deutsche Universitäten vergeben Doktortitel / Ehrendoktortitel hundertfach. Die Liste ist unüberschaubar. Jeder Vorstand eines größeren Konzerns in Deutschland hat von irgendeiner Universität in Deutschland einen Doktortitel Dr.hc. verliehen bekommen. Auch wenn es die Doktortitel schon fast im Kaugummi Automaten gibt, ist er in Deutschland immer noch geschützt. Niemand darf Doktortitel unberechtigt ungestraft verwenden.

Gleiches gilt für den Professortitel. Eigentlich bedeutet Professor Lehrer, wird der Professortitel doch oft sogar höher bewertet als ein Doktortitel, obwohl beides eigentlich nichts miteinander zu tun haben.

Der Professortitel ist in der Regel die Amts- und Berufsbezeichnung. Anders als etwa beim Doktortitel handelt es sich beim Professortitel nicht um einen akademischen Grad.

Professortitel h.c., eine Ehrenprofessor (Prof. h. c. oder auch Prof. E. h.) ist ein weltweit von vielen Universitäten, Regierungen oder Stiftungen vergebener Titel an Personen, die "Verdienste" um eine Sache (Politik, Wissenschaft, Geschichte etc.) dieser Einrichtung, des Staates etc. erworben haben. Das diese "Verdienste" nicht immer positiv für das Volk sein muss, zeigen die Ehrendoktortitel von vielen Politikern.

Die Bezeichnung "honoris causa" (h. c.) leitet sich aus dem Lateinischen ab und bedeutet "ehrenhalber" (ursprunglich "Ehren halber" oder "der Ehre wegen"). Hat eine Person mindestens zwei Würdigungen erhalten, so ist die Abkürzung h. c. mult. üblich (in Osterreich DDr. h. c.), was für honoris causa multiplex steht, also die mehrfache Ehrendoktortitel.

Die Ehrendoktortitel wurden früher in erster Linie aufgrund hervorragender Verdienste auf wissenschaftlichem Gebiet verliehen. Heute werden Doktortitel oft wegen allgemeiner oder unmittelbarer Verdienste um die Hochschule oder die Fakultät verliehen, auch wenn dies in der Regel keine formale Voraussetzung ist. Ein typischer Fall ist die Auszeichnung eines herausragenden Wissenschaftlers, der sich als Gründungsdekan in besonderer Weise für die Fakultät verdient gemacht hat. Haufig erfolgt die Verleihung der Ehrendoktorwürde (= Doktortitel Dr.h.c.) auch aus politischen, finanziellen oder anderen Grunden, bei denen die Exzellenz der wissenschaftlichen Leistungen des Geehrten nicht immer erkennbar ist.

Die Ehrendoktortitel ist eine Ehrung für Verdienste und kein akademischer Grad eines Doktors (Doktortitel), der nach einem mit Hochschulprufung abgeschlossenen Studium und Promotion durch Urkunde verliehen wird, wie ein "normaler" Doktortitel. Zur Verleihung des Ehrendoktortitels ist keine Prüfung vorgesehen. Die Vorgehensweise und die genauen Bedingungen fur die Verleihung regeln die Promotionsordnungen der Universitatsfakultäten. In der Regel hält der Geehrte anlässlich der Verleihung einen wissenschaftlichen Vortrag. Das Ehrenpromotionsrecht fur die Technischen Hochschulen wurde in Preusen durch Erlass von Kaiser Wilhelm II. erst im Oktober 1899 eingeführt.

Den Rekord liegt bei 150 Ehrendoktortiteln und wird vom dem US-amerikanische katholische Theologe Theodore Hesburgh (1917.2015), weshalb ihn das Guinness-Buch der Rekorde schon seit Jahrzehnten als Titelhalter in dieser Beziehung fuhrt. Über 120 Ehrendoktorate wurden bis heute Daisaku Ikeda (* 1928), dem Präsidenten der S.ka Gakkai International, verliehen. Nelson Mandela (1918.2013) erhielt über 50 Ehrendoktorate / Doktortitel. 47 Ehrendoktortitel erhielt der US-Amerikaner Richard Buckminster Fuller (1895-1983). Tendzin Gyatsho (* 1935), dem XIV. Dalai Lama, wurden 43 Ehrendoktortitel verliehen, zumeist von US-amerikanischen Hochschulen.